Blog Home
How to Pick the Perfect Apartment Floor Plan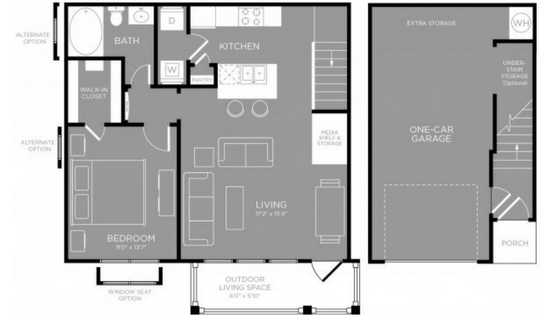 We're approaching the beginning of a new season, school year, and transition time for many new renters. If you're in the market for a new home, you may feel overwhelmed by all the options demanding your attention. Today the Mansions 3Eighty Blog is here to help you narrow down your search by offering a few things to remember as you search for your the perfect apartment here in Little Elm, TX.
Determine how much space you need.
Some people think packing is reserved for immediately before you move, but going through your things and at least sorting them in your mind or on paper according to where you'll put them in a new apartment can give you a better idea of how much space you need. Decide what clothes to keep, measure your furniture, and figure out the dimensions of your current home to use as a frame of reference for your searching. Start getting rid of things now so you don't have to feel flustered or pressured into keeping things you don't love while you move!
Distinguish must-haves from luxuries.
While you're envisioning a new apartment, think about what you need and want, and write these criteria in separate lists. Rank them in order of importance so you can help yourself find as close to an exact mix of qualities that you want in an apartment as possible. Give yourself a little leeway so you can actually find an apartment, but be aware of how the amenities and other factors of an apartment may affect your day-to-day lifestyle.
Ask questions while touring.
Touring an apartment is vital in ensuring the place is a good fit for you. Ask the leasing agent questions you may not receive answers to online. Ask yourself questions about how naturally the home feels to you, how much you like the lighting, flow of the layout, or the ease of access to exits. Get on the same page about expectations for rent, utilities, and any extra fees. And bring along a friend so they can ask any questions you forget and give you feedback afterward!
The Mansions 3Eighty is a perfect apartment community for many people looking for luxury apartment homes in Little Elm. We have walk-in closets, spacious pantries with built-in shelves, spacious outdoor living spaces, expansive living and dining spaces, and large, spacious floor plans. Contact us today to schedule a tour!
What are your best tips for finding the perfect apartment? Let us know in the comments! Thanks for reading. We look forward to hearing from you!