Blog Home
Summertime Pool Fun and Safety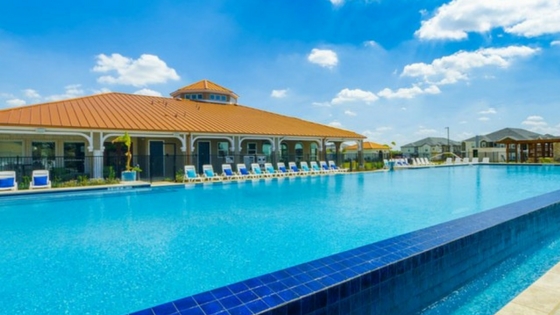 The weather is warming up here in Little Elm, TX, so enjoy it by taking a dip in the olympic-sized swimming pool here at The Mansions 3Eighty. This week's blog post has information about our pool and pool safety tips you may find helpful.
Our luxurious swimming pool is one of the best around: it's an infinity-edge, olympic-sized (50-meter) pool that's a delight to visit even on the busiest summer days. Swim laps or wade in the shallow ends for a laid back way to cool down any time this summer. Make it a party and invite friends over to play some classic, fun swimming pool games.
Of course, while you're having your fun in the sun, remember that safety is the most important thing! There's a whole website (and accompanying Twitter account) dedicated to pool safety, so take the first step to staying healthy and happy in or outside of the pool by learning some facts. According to Pool Safely, drowning is the leading cause of unintentional death in children ages one to four. This doesn't mean you or your kids have to be afraid of or avoid the pool; it just means staying smart is of the utmost importance.
Start by always having a visual for where any children you're taking care of are. You can then know how to prevent or address issues that may arise. In addition to this, Pool Safely offers five other pool safety tips everyone should know, including an important one of learning how to swim and teaching children how. Even knowing the basics is an invaluable asset.
Think about small dangers. There are plenty of small ways you can get hurt anywhere, and a pool is no different. Stay away from and teach children to stay away from drains and suction outlets — you don't want hair, bathing suits, or jewelry caught in them! Be aware of other accidents that can occur in or near the pool so you and the little ones can practice them without too much stress. Practice walking instead of running, for example, so you don't slip and hurt yourself or others. And always remember to visit the restroom often.
Be mindful of others. Teaching children to practice smart pool habits is important because not only is it polite, but it creates a safe environment for everyone. Horsing around, even in the pool (a fun place), can cause chaos in an already easily uncertain situation. So respect others' space, learn CPR, and stay aware so everyone can stay safe and have fun!
What are your favorite swimming pool games or your best safety tips? Share with the rest of the apartment community by leaving a comment. We hope you enjoy the pool this summer!